Reading Time:
3
minutes
Flash Player will reach its end of life (EOL) on January 1, 2021, after always being a security risk to those who have used it over the years.
Over the years, multiple zero-day and critical vulnerabilities [1, 2, 3, 4] found to impact Flash Player were used by both cybercriminals and nation-state hacking groups to install malware, remotely execute malicious code, and take over the users' computers.
The demise of Adobe's multimedia software platform was first revealed in a coordinated announcement from Apple, Adobe, Facebook, Google, and Mozilla in July 2017.
This decision was taken due to the decreasing numbers of people still using the software and because of more secure and better-performing open tech such as HTML5, WebGL, and WebAssembly being available.
After December 31st, 2020, Adobe will stop distributing or updating Flash Player and web browsers will no longer provide support for the Adobe Flash Plugin.
Adobe Flash Player's end of life is good news given that it will drastically reduce the attack surface threat actors can use to hack into web browsers and operating systems.
To make sure that all users know of its imminent deprecation, Adobe has also started displaying alerts on Windows computers recommending users to "immediately" uninstall Flash Player from their systems.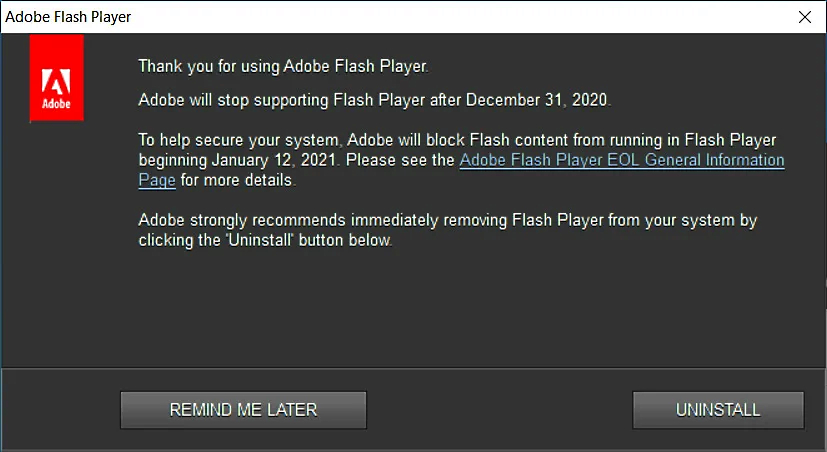 How to uninstall Flash Player
"Since Adobe will no longer be supporting Flash Player after December 31, 2020 and Adobe will block Flash content from running in Flash Player beginning January 12, 2021, Adobe strongly recommends all users immediately uninstall Flash Player to help protect their systems," Adobe says.
"Flash Player may remain on your system unless you uninstall it.  Uninstalling Flash Player will help secure your system since Adobe does not intend to issue Flash Player updates or security patches after the EOL Date."
Starting with January 1st, 2021, Adobe will also remove all Flash Player download pages from its websites.
Users who still want to download and install the software are urged not to download it from third-party websites since those versions "not authorized by Adobe" and installing them could lead to malware infections. 
To completely remove Flash Player from your computer you have to click "Uninstall" when prompted by Adobe in Flash Player.
You can also follow manual uninstall instructions provided by Adobe for Windows and Mac users.
Microsoft has also released the KB4577586 optional update to remove Windows ActiveX versions of Adobe Flash Player and to block it from being installed again.
Microsoft will also remove all Flash-related downloadable resources from all its download platforms after Flash reaches its end of life tomorrow.
Enterprise environments, Flash's last chance
Enterprise users who still use internal business systems requiring Flash Player support and commercial licensing can reach out to the company's official distribution licensing partner, HARMAN, according to an Adobe announcement.
Microsoft also said that customers will still be able to run such software solutions in enterprise environments using dedicated Microsoft Edge and Internet Explorer plug-ins.
"To aid such customers, Microsoft Edge will allow Adobe Flash Player to load as a plug-in via the IE mode feature," Microsoft said.
"Inherently, Internet Explorer 11 will also allow this. Once you make the switch from Microsoft provided Adobe Flash Player, it will be treated as any other third-party plug-in and will not receive Customer Support from Microsoft."
via www.bleepingcomputer.com